Every year the NBSK hold an annual Nihonto craftsman competition. I have just received the results and I am pleased to say that Andrew Ickiringill has managed to achieve an amazing feat by receiving a Gold award for polishing after just 5 years (normally 7)  of apprenticeship under Sasaki sensei. . . . We are all looking forward to his eventual return to Australia. There is already a buzz about his win on the internet but we will all have to wait for a picture of the blade which usually is released by the NBSK.
As some of you may know over the last few years  I have on occasion made and repaired Habaki but never openly offered it as a service due to the overwhelming backlog of work continuing to build up. But. . . . as it turns out after some additional private study and assistance in Japan I was encouraged by Andrew  to submit a Habaki to this years comp. After a lot of unavoidable trouble I managed to get one done and posted just in time, although it was not in the materials or style I had planned and I was not entirely satisfied with it  but, I really did want to enter this year (if anything to get feedback on what to improve on). So naturally I was quite surprised and pleased to hear that I achieved Nyusen, which effectively is an acceptance award, which I have been informed was good as quite a few submissions by Japanese craftsman were rejected. I will be working on improving my knowledge and learning some new textures  over the next year and plan to re-enter in next years  competition. Pic and details of Habaki below
.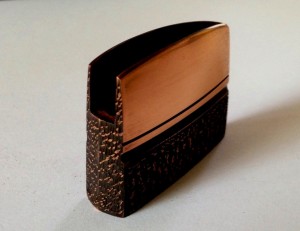 This was made for a Large Shinsakuto, I had originally planned to do it in Hiirodo with the texture a lot more bold but after some discussion and some concerns raised with Hiirodo being a bit too "strong" so I left it raw copper. The texture was somewhat experimental as I have only seen one habaki done with this style of large burs and this was the first time I tried it. . . unfortunately due to altering my initial design I felt that without seeing it in context and in Hiirodo the burs were eventually toned down and probably too much leaving me largely unsatisfied with the overall finish. I may consider the possibility of trying out the original design for it's intended blade (pictured below) as this one I will set aside to be kept in my permanent collection.
Kam